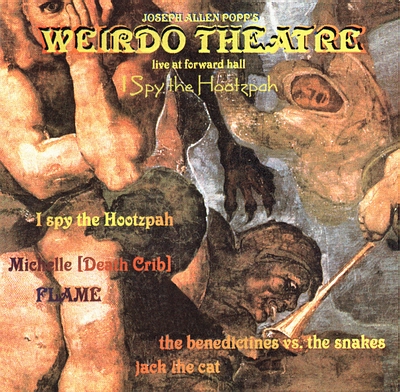 i spy the hootzpah
Weirdo Theatre
Joseph Allen Popp's
WEIRDO THEATRE
5 original spoken-word theme improvisations

JOSEPH ALLEN POPP'S WEIRDO THEATRE is experimental music with voice-over; it is soaring electric guitar over jazz drums and funky bass; it is theramin and story-telling; spacey jams and dense ensemble blowing; 'sixties free jazz and futuristic sonorities. In short, it is hard to pin down when describing it.

Created from a series of live concerts at the Forward Hall Concert Club, recorded by the attached Midtown Recording Studio, the band assembled their choices to represent the various titled theme-pieces the band performs.

Acid-jazz on the rocks; free jazz-fusion; beatnik-hardcore; spoken-word metal; call it what you will, Weirdo Theatre is a unique experience. See for yourself on I SPY THE HOOTZPAH - Live at Forward Hall.

I Spy The Hootzpah, 5 tracks of music.
disk 1
I Spy the Hootzpah
Michelle [Death Crib]
FLAME
the Benedictines VS. the Snakes
Jack the Cat

the players

Ken Cornelius -
      4 string bass guitar
Rob Gray -
      voice of God, theramin and chutzpah
Rick Lopez -
      skin bats expertice
J.A.Popp -
      guitars, poppsickle stick M.B., devices
credits

All Songs copyright 2003/2004
Weirdo Theatre Music?
Cornelius Gray Lopez Popp
Recorded by
      Randy Hetherington of
      Midtown Recording LIVE at
      Forward Hall.
Cover Art Design by
      Joseph Allen Popp ©2004

thanks also to
      the Erie Art Museum

Printing by Diane @PIP
©2003 - jdhopkins.com | chelaBOP