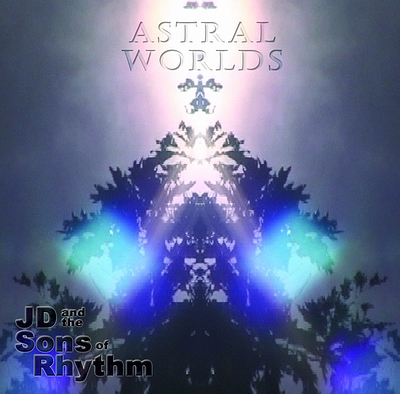 astral
worlds
J.D. AND THE
SONS OF
RHYTHM
ASTRAL WORLDS
19 collective improvisations
glimpse the astral realms...
of music
Astral Worlds portrays a variety of sounds, from the breezy funk feel of Rincon Sunsets to the pressure of High Density Intensity to the multiple transformations of Reentry. Many aspects of the dream are covered, as you project through Astral Worlds' portrayals of these realms, and eventually return refreshed, delighted with the world you're in.
Astral Worlds is double Album number eleven from J.D. and the Sons of Rhythm, a fact which shows the depth and range of creativity from which this collective improvisation ensemble draws. Although there are similar starting points for textures and grooves, each of the previous ten Albums adds its own unique signature to the series. Different configurations of players, particularly bass players, and layered overdubs, create as much contrast as changing a tempo or rhythm pattern.
All together, this cast of skilled and experienced performers allow themselves to once again be subjected to the scrutiny of unrehearsed ensemble playing with a high degree of success. As one of the musicians put it, "We forget how difficult this is until a new player comes in, and you see that look of vague panic as we just start recording as soon as J.D. starts playing, without any discussion about what's coming!" Fortunately, they all seem to adjust pretty quickly, and put themselves deeply enough into the music to transport you....to Astral Worlds.
********************
ASTRAL WORLDS, 19 tracks of music.
disk 1
1: The River Calls
2: Iberian Dreams
3: Hypnosis
4: Punkadylics
5: Mad Rickie
6: Water Falls
7: Crusin' Through the Rain
8: Fusion Musak
9: Asylums
10: Ode to Kennedy Thompson

disk 2
11: Low Down Phunk
12: HopScotch
13: Reentry
14: Strange Dreams again
15: The Living is Easy
16: High Density Intensity
17: Matzathan Nights
18: Another Weird Trip
19: Rincon Sunsets

the players

J.D. Hopkins
Rickie Hopkins
Jayson Hopkins
Joel Polacci
Preach Freedom
Tony Stefanelli
Ralph Reitinger
Kenny Cornelius
David Blaetz
Chris Sedelmyer
Mark DeWalt
Mike Ohm
Sheldon Peterson
Phil Papotnik
Frank Singer
credits

Produced by J.D. Hopkins
Cover Photo by Sue Buck
Cover Layout by Mark Saunders
Engineered, Mixed and Mastered by
Randy Hetherington
Recorded at Midtown Recording
Dream of water, of sunsets, of rain.
A fairy and a demon hover over rivers of alchemy,
trapped in a karma created by their own hypnosis.
Dream of density, of fusion, of limbo.
A living dimension, a realm of astral projection,
playing hopscotch in the water.
Dream of Rincon sunsets, of Matzathan nights,
of Iberian dreams.
A river calls, water falls,
another weird trip of high density intensity.
Dream of Astral Worlds.