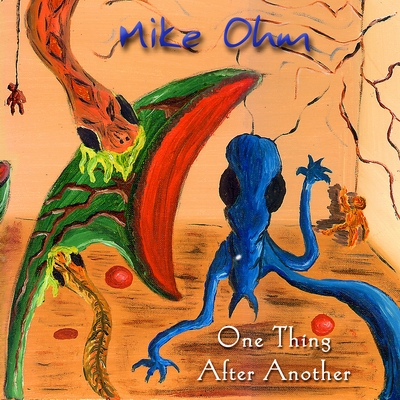 one thing
after another
Mike Ohm
ONE THING AFTER ANOTHER
double-tracked guitar duets

Playing with a sound reminiscent of Steve Morse and Larry Carlton, guitarist Mike Ohm manages to capture the feel of an entire band in the two- or three-track instrumentals on One Thing After Another.

Keep Smilin' gives us an Ohm version of Rhythm Changes. F-Bomb stays in the swing pocket, while Been Tryin' has a Latin feel interspersed with funk riffs and jazz harmonies.

More swing, funk, and rock flavorings follow, until Segovia's classical Impromptu seasons this jazz guitar stew with one more spice, followed by finger-picking ala John Fahey on Eric Johnson's Song For George.

ONE THING AFTER ANOTHER, 10 tracks of music.
disk 1
Fatty Acids
Keep Smilin'
F - Bomb
Been Tryin'
Omega Man
Air Horse
Drinks
Fish Oil
Impromptu...(Andres Segovia)
Song For George...(Eric Johnson)

[ top ]
more Mike Ohm
things are not what they seem
©2003 - jdhopkins.com | chelaBOP
the player

Mike Ohm
- All Guitars

credits

Mastered by
      John Trevethan
      Art Of The Groove.com
Recorded February 2003
All compositions by
      Mike Ohm
      (unless indicated)
Dedicated to my father,
      mother, brother, and sister
      back in Wisconsin and Minnesota
      - also dedicated to Jodi
Cover art by Mike Ohm
Thanks to: Bill Smith at Catwalk Music,
      Jim & Carla, Erin at Lynch Music
      and John Trevethan