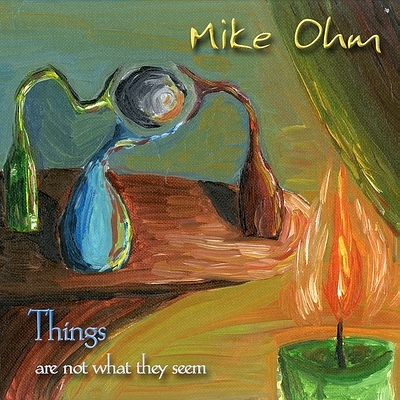 things are not
what they seem
Mike Ohm
THINGS ARE NOT WHAT THEY SEEM
double-tracked guitar duets

From grooves influenced by John McLaughlin to textures akin to John Abercrombie, this Album carries you through each tune easily, with a full sound from two guitars.

There are moments where classical etudes seem to coexist with jazz progessions, with a little swing here and there for seasoning, yet it all comes together in one musical package.

Lay back and enjoy a soaring guitar duet album from Mike Ohm.

THINGS ARE NOT WHAT THEY SEEM, 8 tracks of music.
disk 1
Cherry Eye
Last Crusade
Crinkle Cut
Pouch
Sebastapool
Lost
Monkey
Roll In The Hay

[ top ]
more Mike Ohm
one thing after another
©2003 - jdhopkins.com | chelaBOP
the player

Mike Ohm
- All Guitars

credits

Mastered by
      John Trevethan
Recorded October 2002
All compositions by
      Mike Ohm
Dedicated to my wife Lori.
Also Dedicated to the memory
      or the seven men and women who
      lost their lives on the space shuttle
      Columbia, February 1, 2003
Cover art by Mike Ohm
Thanks to: Bill Smith at Catwalk Music,
      Jim & Carla, Erin at Lynch Music
      and John Trevethan