---
J.D. Hopkins.com Article Archive section: 2005 |
---
2005 ARTICLES ON J.D. and the SONS OF RHYTHM
---
November - Astral Worlds Release Notice
August - Moving Through The Elements Release Notice
July - Jazz Rock World, the home of Jazz-Rock Fusion on the Internet
June - New Music for the New World
March - Beyond Attention / Crossing Oceans of Time Release Notice

Glimpse the Astral Realms of Music
DISC 11 - ASTRAL WORLDS
For the long-term, core members of J.D. and the Sons of Rhythm, the extraordinary seems ordinary. Creating music in the studio with no more guide than an occasional key, starting from the moment J.D. begins playing until the objective is achieved, seems like the routine for the four-year veterans of this collective Jazz-Fusion improvisation ensemble. For those new on the job, however, it can be a bit of an adjustment.
"We forget how difficult this is until a new player comes in, and you see that look of vague panic as we just start recording as soon as J.D. starts playing, without any discussion about what's coming!" says one veteran. The look soon goes away as the newcomer listens their way into the evolution, rising to the challenge of this spontaneous way of playing.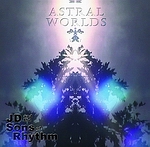 Astral Worlds is the eleventh double-disc release from J.D. and the Sons of Rhythm, once again combining new musicians with returning core members to produce an Album which provides a glimpse into the Astral realms of music.
J.D. has chosen his players well for this release, and changed the chemistry of the jams by mixing and matching the players in order to continue exploring the many possibilities of collective improvisation. The veterans include J.D. and his two sons Rickie and Jayson, four bass players, two guitarists, a conga player, saxophonist, and multi-instrumental guitarist/keyboard player. New to the mix are Jembe, violin, and another pianist, all three quickly enhancing the music with their contributions.
This music ranges from delicate to intense to funky to dreamy to...well, to Astral Worlds! There are moments of peace and reflection followed by cascades of notes, wailing melodies, and bluesy flavorings, all with the underpinning of rhythm from J.D. and his sons. Five layered productions pepper the set list, with J.D. and son Jayson playing electronic percussion, and guitarist, keyboardist and guitar-synth player Frank Singer creating overdubbed tracks. These range from trance grooves to tribal rhythms, funk to gamelon, with most being no more than a few minutes long.
Contrasting this are live studio jams, one lasting over thirty minutes! Producing that much uncut music without a map shows the depth of what these musicians can do when put to the task. Ballads and funk-fusion grooves meet intense rhythms and dense harmonies, with moments that seem like lulls becoming entry points into new realms. All of this is generated by listening, and allowing the music to come to pass on it's own terms, without the structure normally imposed on it from without.
Perhaps it is appropriate that this disc explore the idea of dream states and alternate realities. Musicians draw their inspiration and creativity from a deep source, which can even be understood as its own dimension. It is a place where thoughts get instant results, guidance comes through conscious awareness, and the benevolence of fellow travelers is vital. It is, perhaps, an Astral realm, where J.D. and the Sons of Rhythm come together to create Astral Worlds.
This Album and the other ten J.D. and the Sons of Rhythm Albums are for sale on Bandcamp, and much more can be found about the music and the musicians who play it here at jdhopkins.com.
Bandcamp / Apple iTunes / Amazon.com / Amazon Music / stream all cuts
[ top ]
---
Double-Album #10
Moving Through The Elements
NEW RELEASE CONTINUES MUSICAL EVOLUTION
It seems like the J.D. and the Sons of Rhythm recording sessions have become a way of life - every few months we return to the studio to challange ourselves, finding new ways to combine various elements of music. J.D. keeps us on our toes, adding new players, new rhythms, and mixing the elements together in new and different ways.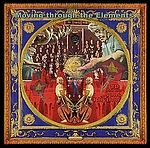 The latest result, Moving Through the Elements, uses musicians from Cat's A Bear and Potato Battery, with bassist Kenny Cornelius and drummer Dan Schwartz adding to the Hopkins mix. Twelve musicians combine efforts to produce another unique, original Album with music that can only happen once. You won't find music exactly like this anywhere.
Old and new players continue to bring their styles and experience to bear on this creative process, with their own individual evolution contributing to the total evolution of the sound. This music grows out of the moment, and now grows out of its creative past, with the experience of former collective improvisations guiding the present.
You will find short musical vignettes in between long flowing jams, and melodic grooves juxtaposed with avant-garde Free-jazz passages. There are layers of rhythms and harmonies, groove textures and linear counterpoint. Solos grow out of dialogues, and return, leaving space for others, or for more rhythmic play.
Drummers J.D., Jayson and Rickie Hopkins are joined by Joe Dorris, Tito and Dan Schwartz. The bass moves between Kenny Cornelius, David Blaetz and Frank Singer, with many of the tracks without bass - another twist for music usually built around the bass and trap set (drums). Core members Mike Ohm, Sheldon Peterson and Frank Singer handle guitars throughout, with Frank playing keyboards and guitar-synth as well. Phil Papotnik adds his saxophone to the mix, rounding out a diverse set of sounds, ideas, textures, styles and grooves - the elements of music.
Move through the elements with J.D. and the Sons of Rhythm.
Moving Through the Elements - 16 tracks of Collective Jazz-Fusion Improvisation.
[ top ]
---
JAZZ ROCK WORLD
The Home of Jazz Rock on the Internet
SHAMELESS PLUG DEPARTMENT:
We here at J.D. Hopkins.com have become friends with many fans over the past few years. One thing we have found is that many of our fans are musicians involved in creating Jazz Fusion, World Music, and other contemporary styles. Rick Calic of We No Speak is one such musician.
Rick hails from his current web site, WeNoSpeak.com, and has reviewed Music From Another Planet on that web site. [Click here to read review.] This site is a hard core Jazz Fusion web site, and now Rick is launching another web site called Jazz Rock World.
Rick has asked that fellow musicians reciprocate some of the excellent promotional efforts he has made on Jazz Fusion's behalf, of which J.D. and the Sons of Rhythm have greatly benefitted. We are MORE than happy to oblige, so we'll let Rick tell it in his own words.
THE BIRTH OF A NEW FAMILY OF JAZZ ROCK WEBSITES

My name is Rick Calic and many of you know me as the Jazz Rock fan(atic) that owns We No Speak. I'm very proud to announce the birth of a new family of Jazz Rock website's aimed at encouraging the growth and exposure of Jazz Rock/Jazz Fusion music by being a significant resource for musicians, fans and other promoters with my flagship site called JAZZ ROCK WORLD. There are two other sites set aside for eventual deployment.

The flagship site itself has just three pages for the moment so that Jazz Rock Fusion musicians and fans have the opportunity to contribute to the site's eventual design and content. Please visit www.jazzrockworld.com and also review my Mission Statement. Then please forward your ideas and suggestions to me. I'm relying on you to tell me what you want, so we can all share the benefits of each other's ideas.

As mentioned in my Mission Statement, the site's goals are simply to promote Jazz Rock/Jazz Fusion music, the musicians that play it and everyone else that helps promote it. There is no commercial aspect to the site at this time, however, that may change. I have some commercial ideas however; they will be based on creative embellishment rather than competitiveness.

A parting thought. Even if I had the resources and it was possible for me to hire a solid business team, develop the various assets for a top shelf business plan, consult with various legal assistants, agents, managers, website and storefront designers, and approach venture capitalists for backing, I'd rather not. I would prefer that the service I provide exceed the expectations of everyone that contributes feedback to me and ultimately helps to achieve the goals in my mission statement. I don't want to build a website for Hollywood or "the corporation"; I want it to be for us. Besides, we all know that if there was any real money in Jazz Rock - everybody would be doing it! This venture is a labor of love that goes way back.

Looking forward to hearing from you.
Your Humble Jazz Rock Servant,

Rick Calic
Keyboards/Drums
We No Speak

| Jazz Rock Editor | | |
| --- | --- | --- |
| Jazz Rock Contributor | | |
| Owner | We No Speak | rick@wenospeak.com |
| Owner | JAZZ ROCK WORLD | rick@jazzrockworld.com |
[ top ]
---
NEW MUSIC FOR THE WORLD
There is definitely something special about music and musical time. You can see the truth of this in the way a child reacts to rhythm. Too young for coaching, a child old enough to move will naturally do so to the beat. Music is primal, and part of our make-up.
On this level and in this way music reaches us all. This explains why we humans connect musically when we cannot even speak the same language.
The musicians in J.D. and the Sons of Rhythm do speak the same language, and musically they speak a multitude of dialects. What emerges from this multi-faceted discussion is a layering of musical ideas and styles, collectively improvised Jazz-Fusion, with passages sounding like World Beat, New Age, Free Jazz, Hip-Hop, Funk, Straight-Ahead, and the occasional Rock-and-Roll, sometimes mixed together in surprising combinations.
| | | |
| --- | --- | --- |
| "It's cutting-edge muzak from God" - Professor Don Huber | | the jam band of jazz fusion |
| | "Music like this makes even celestial bodies lean in and listen" - Kirk Nesset WARC FM | |
| collective improvisation | | "This is space jazz at its most exquisite: jam-based and spontaneous even while focused, emotionally coherent" - Kirk Nesset WARC FM |
It is music that reaches you on the primal level of rhythm. It is also music that uplifts, excites, and transports you. And listening to tracks recorded by J.D. and the Sons of Rhythm is hearing music in its raw and pure form - before it is harnessed and made more conventional by composition, arranging, production, marketing and promotion.
The musicians in this group are trained in the spontaneous creation of music, in many forms and styles. This means they are used to handling the raw energy of music, and allowing that creativity to flow through them to you via their recordings.
These spontaneous recordings are one-time musical events, captured in Digital and released in two-disc sets. In addition to the nine existing Album sets totaling eighteen sides of music, four more double-Album sets are being completed and made ready for release over the next few months. These eight sides comprise months of recordings with old and new members in varieties of combinations and numbers.
The core group on these recordings begins with J.D. Hopkins and his two sons, Rickie and Jayson. All three of these drummers are individually capable of being the driving force in any musical group [ current groups ]. Together they are a force to be reckoned with.
Joining them are the bass players - Tony Stefanelli, David Blaetz, Ralph Reitinger, Kenny Cornelius, and occasionally new-comer (to the bass chair) Frank Singer.
The only two players to appear on every disc with the three Hopkins drummers, Frank Singer and Mike Ohm are joined by guitarists Sheldon Peterson and Joe Frisina, with Singer adding some Acoustic-guitar to his Keyboard / Guitar / Guitar-synth / Bass-guitar setup.
Already included on the last two Albums, Beyond Attention and Crossing Oceans of Time, Woodwind player Phil Papotnik returns for many of the tracks on these eight sides. He is joined by Violinist Chris Sedelmeyer and Keyboardist Mark Dewalt on some of the later tracks. Guest percussionists include One World Tribe's Preach Freedom, Mark Colicchia, and Baba Raymond Sylla, who graciously dropped in while in the area one night, and Cat's A Bear's Joe Dorris and Nick Ronzitti, who were at several of the sessions.
Engineered by Randy Hetherington, these Midtown Recording Studio sessions are always notorious for being demanding, challenging, and fresh. Producer J.D. Hopkins creates an atmosphere which keeps everyone on their toes, even as they relax and enjoy the pleasure of playing music with one another. By combining players in different combinations and numbers, and sometimes asking for a musical scenerio as a starting point, he allows the unexpected to emerge from the sessions. Though there were certainly none, any preconceived notions of what to expect from a J.D. and the Sons of Rhythm session would be shattered by the twists and turns that play out at Midtown.
The result of this is music born of pure communication - pure listening. There is no other way to proceed when all you might know about a piece is what key you are starting in (in some cases). As uncertain as this sounds, it's a liberating process for improvising musicians. Used to the discipline of form, melody, chord changes and set meter, these players rise to the challenge of having the elements of music placed back in their own hands.
Ultimately, this raw music connects players and listeners with themselves and each other, on that primal level that defines us as human beings, and as children of the universe. Thus, we await the release of this truly new music into the world. It can only help us keep our primal natures healthy and happy!
Double Albums from J.D. and the Sons of Rhythm
Beyond Attention
Crossing Oceans of Time
Live at Forward Hall
Imagination Doctors
Smoke Shadows
Quantum Events
Music From Another Planet
Primate Gestures
Family Values

[ top ] [ back ]

Current or Recent Groups with a Hopkins Member
That Dog In Egypt
Mambo
Skudd
Joe Frisina Project - Too Big Power

[ top ] [ back ]

---
Four Sides of Collectively Improvised Jazz Fusion
Beyond Attention and Crossing Oceans of Time work as a set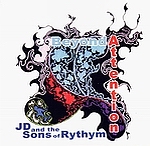 After three years and fourteen sides (seven double-disc sets), J.D. and the Sons of Rhythm return with a vision of renewed purpose in collective improvisation and with four more sides.
Beyond Attention and Crossing Oceans of Time serve as companions to one another, bringing spontaneous playing together with techniques normally used to provide predictability, such as overdubbing, editing and mastering. Both Album covers show similar design, with original art by J.D. Hopkins similar to his T Shirt art. Both Album sets have a similar mix of vintage J.D. and Sons jamming, interlaced with the overdub style found on two Primate Gestures cuts and the first side of Imagination Doctors. Both Albums also show the freshness of music born of trying new ideas, new players, and allowing the process to take place naturally.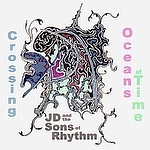 One of the facets of this music that keeps it fresh, spontaneous and natural is the philosophy of its creation. From the beginning, the live jams have always been what they are, noise, talking, equipment buzzes, and all. This is the J.D. and the Sons of Rhythm way of keeping the music real and honest. So much of music today is contrived, even created with a philosophy of marketing. The approach taken by this ensemble offers an alternative.
Yet each of the players on the Albums have played and still do play many different styles of music, sometimes from one night to the next. Some of these styles are Jazz, Latin, Funk, Reggae, Hiphop, Blues, Fusion, Rock, Metal, Country, Folk, Classical, Motown...the list could continue for a while. The awareness of how most of us hear music influences the way these players make music in the Sons. This includes telling stories and having conversations, and playing the occasional blazing solo or bass line. In this, the group's vision is the same as it is for most music - entertain, edify, enlighten, enjoy and have fun!
"...we have been playing long enough to know how to be responsible for the music we create, and J.D. offers us the chance to be free knowing we will still play music that satisfies and makes sense, and pay attention!" states one of the band members. The result is Beyond Attention, and Crossing Oceans of Time.
This philosophy of spontaneity also shows itself in the overdubbing process, a process which is often used to create repetition and sameness in the recording studio. By improvising each layer, musicians have the chance to relate to what has already been recorded, yet build new layers even as the knowledge of the existing tracks becomes more sure with each pass. Not rehearsing parts beyond working out a few sketched ideas keeps the playing fresh and explorative, and allows the music to evolve in unpredictable ways.
Side one of Imagination Doctors was a serious foray into this overdubbed sound, with various combinations of players creating layered tracks for the ten cuts. Beyond Attention and Crossing Oceans of Time have similar collectives, typically pairs of harmonic and melodic players playing first tracks with the percussion section, and then improvising layers simultaneously. Many of these sessions occurred without the use of the bass, which is also unusual for scripted music. Some of the results are striking, and rather than feel empty they are enhanced by the use of the space.
New to this series of recordings is the use of direct editing cuts between tracks in the mastering process to integrate the overdubbed tracks with the live tracks, and contrast various configurations, from percussion, sax and piano to full ensemble and everything in between. The result is music from one recording session will suddenly fade or cut into another. Anyone familiar with John McLaughlin's Extrapolation album will be reminded of the beauty of this effect on that recording, which in the same way helps to tell the story the recording portrays in its music.
The mediums used for improvisation continue to expand, with mixing combinations of players, introduction of new musicians and new situations, and always new ideas and challenges from J.D. and between all of the musicians participating in this exciting project. Some of the new members include guitarist Joe Frisina, saxophonist Phil Papotnik and trumpeter Chad Garrison. They join the crew of rhythmists J.D., Rickie and Jayson Hopkins, bassists David Blaetz, Tony Stefanelli and Kenny Cornelius, guitarists Mike Ohm and Sheldon Peterson, and guitarist, keyboardist and bassist (Crossing Oceans of Time) Frank Singer.
Together J.D. and the Sons of Rhythm take you on 28 journeys through a quantum horizon of possibilities, unique as a snowflake, yet universal in scope.
- chelaBOP - 03-05
[ top ]
©2003 - jdhopkins.com | chelaBOP